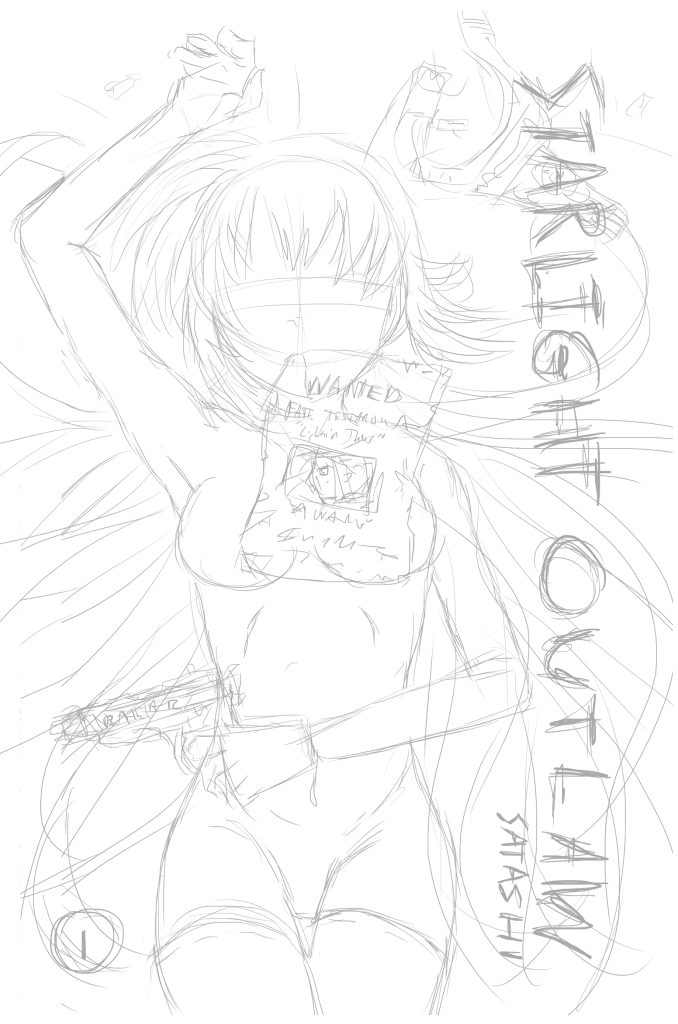 How about a western Nanoha!?
Doodle by Alavon, lets give her a hand!
The planet of midchilda, once a lush planet tinted with green and blue. However, the humans grew too strong, and a world war broke out. Millions died, and the scientist all but died by their own weapons. Technology lost, and the planet scarred, the humans struggled to rebuild their way of life. Now, a few hundred years later, the planet will house a new story. One of The Fate, the Nanoha, and the Hayate.
Starlight Outlaw
By:
Satashi
Dirt and sand kicked up behind a horse as it galloped alongside of a speeding train. The black haired animal breathed heavily as its master urged it to go faster, mentally asking it to hold on for just a bit longer. Seconds passed and a ladder came within grasp of the rider and a gloved hand shot out to grab it. With an awkward, but practiced, leap of faith, a figure made it onto the moving train. A black cape whipped out to the side of the person, revealing a female body.
Blond hair was flying heavily in the wind, kept in a ponytail that was braced at the base of her neck. A black shirt was worn to cover her upper body, paired with a red and black vest that housed quick reloads for a gun that was flapping against her legs in a holster. Jeans that were worn and dirty clung to her legs, almost seeming to be a size too small for the woman. Matching boots were on her feet, but no spurs graced the heels. Finally, a red bandanna was around her neck, matching her eyes perfectly.
The woman shifted her body and slid around to in-between two of the cars. Now free of the rustling wind, she drew her pistol and opened the door leading into the conductor's room. Before the man could even turn around, he was pistol-whipped and fell unconscious to the ground. Reaching for the brake, she pulled it back just enough to slow the train down to a crawl. With that taken care of, the woman turned and walked back outside and then into the boxcar behind. Seeing nothing of interest, the woman continued her trip back, grinning as she saw a car housing several people. Kicking the door open, she stepped in and fired her gun at once, getting screams and then silence. "Greetings!" She called to them with a smile. "I'm sure you know what's going on now, so please by good passengers and place your valuables into this bag." Reaching back, she pulled a large sack that was behind her cape and flung out her wrist to make it flare out and open up. "If anyone tries something funny, I'll blast them, we clear?"
Walking down the aisle slowly, the female robbed each one in turn, smiling and thanking them for their kindness at gunpoint. When she reached the end of the boxcar, she stopped at the sight of a woman wearing a pretty white dress. The woman seemed to be asleep, with a Sunday hat with ribbons and frill pulled down a little to keep the sun from her face. The girl's nails were painted a bright pink and a lace ribbon looped around her left hand for design. "Excuse me, miss," The robber spoke, making the woman stir. "This is a robbery here; I'd like your belongings."
A hand went up to the sitting girl's mouth. "Oh gracious me, a robbery you say? My, I don't know nothing about what I should do!" The thick southern accent only added to the woman's innocence, and the robber hesitated a moment before speaking again.
"Look, just take your pretty jewelry and place it in this bag."
"Like this?" The accented voice asked politely, moving her hand to place a golden watch into the bag.
"Hey, Outlaw!" A voice shouted from the front.
The robber turned at once, pointing her gun to where the sound came from, but saw no one offering any resistance. Instead, she found her wrist being grabbed and when she turned back, a boot connected with her chin, knocking her back.
"Fate Testarossa," The accented voice spoke, now paired with a bright white, pink, and blue gun pointing at the fallen robber's chest. "You're worth quite a pretty penny, you know?"
Fate blinked and looked up as the woman removed the silk white hat from her head, showing a pretty face and bright blue eyes. "Nanoha Takamachi... Bounty hunter, huh? Should have known you'd come after me sooner or later." Nanoha grinned at her, but found her legs tripped from a fast move from fate, making her stumble and fall over as well. Fate quickly got to her feet, grabbed the bag, and left the boxcar before Nanoha could pull her gun again. "Thank you!" Fate shouted out as she climbed to the top of the boxcars
Nanoha grunted and got up, running out the door and hopping to the ladder, only to duck her head back down when a bullet bounced off the metal in front of her. Letting out a sigh, she pulled her gun up and shot over the top of the car twice before jumping up and looking around. Fate was nowhere to be seen, making the woman run along the top. After a few seconds, she ran to the side and looked down, seeing the tail end of Fate's cape as she moved between cars again. With a running start, Nanoha leaped over the car gap and ran along it, dropping down between the next car and ducking. Seconds passed and Fate shot through the door and was tripped by Nanoha at once.
Fate shrieked but recovered before falling, twisting and grabbing Nanoha's dress roughly. With a turn, Fate attempted to throw the woman off the train but instead only managed to slam her against the wall.
A loud ripping sound came, and Nanoha looked at her dress, which was now sporting a long tear near her shoulder. "Hey! You tore my dress!"
"Sorry," Fate answered out of habit. A small silence passed between them before they attacked each other again. The women grunted and struggled, throwing a few punches while trying to aim their respective guns at each other to get a shot off. Finally, Fate glared and jumped back. With a grin, she waved goodbye and jumped once more, off the train.
"Hey, wait!" Nanoha shouted, running forward and looking to the side, seeing the woman struggling to right herself onto her horse. Following, Nanoha leaped as well, fumbling as she landed and running just fast enough to grab a hold of Fate. The blonde, however, managed to right herself and whipped her reins, making the horse gallop at once, leaving Nanoha on her face and in the dust.
"See you!" Fate called out triumphantly.
Nanoha coughed hard and pushed herself up. Her dress was smeared with sand and dirt, making her frown. "The rental fee on this is going to be horrible..."
"At least you didn't lose your head," a new voice came.
Nanoha looked to the side and saw a ferret on the ground, her Sunday hat in his mouth. "Thank you, Yuuno," Nanoha bent down and accepted the hat as well as allowed her partner to run up her arm and sit on her shoulder. "But it isn't all that bad,"
"Oh?" The animal cocked his head to the side. "You lost your pay and ruined that dress."
"She'll come back," Nanoha insisted, watching Fate continue to ride away.
"What makes you say that? She got away clean."
Nanoha grinned, holding up a gun. The sun's light reflected off the polished golden surface, making the black on the handle and red streaks on it stand out even more. The word Bardiche was engraved on the gun proudly. "It's a caster gun, she will want it back." Clicking the gun open, Nanoha removed a bright yellow bullet and slid it into her pocket. "I'll take this as payment for the dress."
Yuuno turned to look at the gun as the conductor of the train got out to see if Nanoha was all right. "A caster gun," he spoke softly. "Part of the lost technology of the past... How did she get one?"
"I don't know," Nanoha began walking to the man approaching her. "But I intend to find out."
~**~
A woman smiled to herself as she watched Nanoha board a train from afar. A black one-piece top/skirt combo covered her body, accented by a yellow zipper that zigzagged over it. A white hat with black trim covered her short brown hair and short boots were on her feet, coming up just a little over her ankles. "Interesting," She spoke out. "The rumors are true; Nanoha-chan does have a spirit linked animal."
"So it seems," A male voice answered her. Walking up beside Hayate, a wolf with shockingly dark blue hair stood beside her. "Are you going to follow her?"
Hayate pulled her hat down a little to block the sun shining down on her eyes. Slowly, a smile came to her face and she turned to walk back to a group of people on horses waiting for her. "Why not? Signum, Shamal, Vita, we're going to have a fun few days ahead of us."
~**~
Nanoha let out a long sigh as she opened the door to her hotel room above the local pub. The noise from downstairs was annoying to her, but was disregarded as something she just had to deal with. "I can't believe that dress cost so much."
Nanoha's accented voice made her partner look over at her. "I told you it was a bad idea to go in disguise."
"But she would have recognized me otherwise." Nanoha sat looked around the room, taking in the surroundings. The area was small, housing only a bed, a night stand, and a small table. To the left was a small area for showering, consisting of a shower head, a drain in the floor, and a small section to stand in. "I think I paid too much for this room too."
Yuuno hopped off Nanoha's shoulder and landed on the table. The light brown ferret stood on his hind legs and watched as his friend undressed. "This is an advanced town, they can charge more and people will pay it."
"Running water is a plus." Nanoha finished taking off her clothes and stood in the shower area, turning on the water to wash over her. "The last place we were in was pretty filthy."
Yuuno nodded, reflecting back. "The world is still recovering, it will be a long time before technology is back to the way it was. With the people actively trying to stop it's progression in fear of another war... Take what we can get, I suppose."
"Still," Nanoha mused, her argument stopping there. "Tomorrow we will visit the gunsmith. If he has caster shells, we will need to buy as many as we can. Yuuno-kun, how much money do we have left?"
Yuuno leapt from the table to the bed and pulled out a small pouch from Nanoha's clothes. Picking it up in his mouth, he pulled it across the bed to spill the contents out. "Let's see... Two gold pieces, fifteen silver, and three copper."
"Enough to buy two shells, food, and some water for our trip... I hope that outlaw comes tonight, I could really go for that bounty."
Yuuno glanced over to the side, looking at the golden gun. "Are you not worried about her? Someone with the ability to sync to a caster gun is dangerous."
"I can handle her," Nanoha turned off the water and wrapped a towel around herself. "If it comes to it, I can use one of my shells. The bounty will cover it and allow me to buy more." Walking to the table, Nanoha picked up her gun, observing it. The main body was a bright white, accented by blue on the handle and along the top. Small sections were laced with pink for design, and the clip going into the bottom held the color as well. On the side of it, the word R. Heart was engraved in a blistering gold text. "Caster guns, lost technology that syncs to a specific person and uses their energy to fire special shells..."
Yuuno nodded. "Once synced, they can only be used by that person. The shells are sold at a high cost because they are so rare... which is good for you."
Nanoha felt her lips turn up slightly. "I know it is dangerous to fire them regularly, but I won't ever have to worry about it, because I never have more than a handful on me at a time." Clicking a safety hold off, Nanoha pulled her clip from her gun and checked the bullets. A row of six bullets were seen and she slid it back into her gun, clicking another safety and pulling the top of it back to see a single pink shell. Releasing her hold, she allowed the gun to snap back into place and put it back on the table. "If Fate is going to attack, I wish she'd hurry. I'd like to get some sleep so I can prepare to leave early. According to my information, there is a group of outlaws that are supposed to attack the nearby town soon. The bounty is large."
"If you need money so badly," Yuuno teased his partner. "You could go downstairs and dance along with the piano player's music."
Nanoha sniffed and turned up her nose at the idea. "A lady would never do such a thing!"
~**~
Fate opened a door and stepped inside of the pub, looking around with sharp red eyes. Her prey wasn't in her site so she walked to the bar and caught the keep's eyes. "I'm looking for a girl," she spoke to him. "A little shorter than me, brown hair, blue eyes, wearing a really nice looking dress."
"No one here by that description," The male told her.
Fate scoffed and frowned down at the bar. "Great..."
"Hey toots!" A man spoke up, draping an arm around Fate's shoulders, making her black cowboy hat shift uncomfortably on her head. "How about you and I-"
Fate's eyebrow twitched and she grabbed the front of the man's shirt. "Hands... OFF!" With that she threw him effortlessly over the bar, making a large keg of beer erupt and splash out all over the counter top.
Upstairs, Nanoha's eyes widened at the sound of a crash. Grabbing both her gun and Fate's, she shoved them into holsters on her jeans and ran out of the room. Running to the safety rails along the edge of the upper floor's walkway, she saw Fate downstairs thoroughly beating up two people. With a grin, she picked up her speed.
The girl's left hand grabbed the railing and she used her momentum to sling herself over it and into the air. With a grin, she took in the area below her as she fell. She saw Fate turning to look over at her, and couldn't help but grin as light reflected off her guns. Her brown hair flew behind her as she descended, contrasting heavily to her bright white and blue trimmed clothes. Her boots landed on the bar with a sloshing sound as they came in contact with the mass of spilt beer on it. Blue eyes widened as her feet slipped out from under herself, making her fall quickly, crashing down on the floor by the bar and letting out a yelp as her ankle twisted.
Fate couldn't help but hesitate at the sight. A fraction of a second went by where she wondered if that woman was the same one she had fought against earlier or not. When Nanoha righted herself and stood gently on her feet, Fate had to admit that it was, in fact, the same one. Pushing her advantage, the blonde ran forward and jumped over the bar, her cape flying out behind her as she did so. Black boots connected solidly with Nanoha's chest and the two fell down on the ground roughly.
Nanoha rolled at once, pulling her gun and aiming as she nimbly reclaimed her footing. Fate's eyes met hers and a glint of gold showed that she had reclaimed her gun during the fall. The first bullet rang out when Fate pulled her trigger, blasting past Nanoha's cheek and leaving a red trail as it grazed the skin. The brown haired woman countered by moving forward and bringing her own gun up. Fate shifted at once, slinging her left hand to hit Nanoha's and make the blast go astray.
The third shot hit the ground, aim shattered by Nanoha's shifting arm that hit her opponent's. A fourth shot came as Fate tried to shoot the woman's foot and a fifth glanced Fate's side when Nanoha fired yet again. The guns both swapped hands and two blows came out to counter the blasts that missed yet again. Using her palm, Nanoha slapped Fate's wrist to block another shot and then brought her elbow up to connect with Fate's chin. Bringing her gun around, she aimed only to have her gun move away from a bullet shot from Fate's barrel against hers.
The blond moved her weight and spun around, kicking Nanoha's side and aiming once again, only to miss when the woman stumbled awkwardly away on her sprained ankle. Trying again, Fate brought her gun up and found it smacked away by a beer bottle that shattered on her hand. Nanoha aimed again, but only managed to shoot through Fate's flared cloak. Another shot fired, missing as Fate turned her body and grabbed Nanoha's hand. The brunette did the same and they each forced the guns away from each other as Nanoha fell onto her back.
Landing hard, the two looked at each other hard but hand to roll away as gunfire hailed over the bar they were behind. Nanoha moved to the left while Fate scampered to the right. Bullets rained down between them and the two each took the chance to reload their guns before looking at each other and frowning.
"We don't take kind to people using guns in our town, ladies." A man spoke up from the other side of the bar. "As sheriff of this here town, I think it best to give yerselves up. That is, unless you want to be shot by everyone in this here bar."
Nanoha grunted and looked at Fate, who seemed to be smarter than taking a shot that would probably get herself killed. "I'm a bounty hunter," Nanoha called back to him. "I have a right to use my arms!"
"Not in my town," the voice shot back. "Here you are under MY law."
Scoffing, Nanoha tried her best to ignore the smug look on Fate's face. Both of them slowly rose at the same time, hands up and guns in their holsters once more. "Fine. I mean no harm to others." Fate didn't say anything. Instead, she simply moved to where she was motioned to go by the guns and stood there. "I suppose you won't let me have my bounty?" Nanoha asked curiously, her thickly accented voice trying to sound pretty.
The Sheriff grunted at her, and before long, Nanoha found her right hand cuffed to Fate's left. The two were escorted outside of the bar and into the back of a covered wagon drawn by two horses. "I don't want the headache of dealing with a hunter. I'm going to let you two go, as long as you don't come near my town again." He took their guns each in turn and emptied their full load into his pockets. "You can keep yer guns, but I won't let you kill each other or hurt anyone in my town." Turning to a man who was getting behind the reins, he spoke to him in an authoritative voice. "Take them out of town and drop them off."
Nanoha gasped. "You can't be serious!" Instead of an answer she got a stern look and the carriage began to move. Turning around, she saw another man sitting with his back to the driver so he could face them. A six shooter was pointed at them and cold eyes let them both know that he didn't mind using it. Taking the hint, each girl sat down and stayed quiet.
The sounds of hooves galloping along the beaten road was the only sound that came for a long time. Each person sat in silence glaring at one another in hopes that they would become distracted. As the ride wore on, the two realized the stalemate and retreated their threatening gazes in favor of looking around to try and collect a trail to make it back.
The wagon slowed to a stop after an amount of time that neither of them could place. A look told them all the man needed to and they each got out of the wagon, standing there with hard eyes glaring. "I'm not one to leave two girls defenseless," the man spoke to them finally. Holding up two bullets, he tossed them to the side. "Enjoy yourselves."
Nanoha and Fate both darted to the shells at the same time, jumping and reaching for the bullets. Sand flew around them as they struggles with each other, fists closed over their ammunition. As they struggled, the horse drawn wagon rode away from them, leaving the two girls in the sand to battle it out under the pale moon.
The girls continued to fight as they struggled with each other, pulling on their joined wrists roughly to try and gain the upper hand. It wasn't until a coyote howled in the distance did they attempt to load their guns. Two chambers opened and the bullets slid in quickly. Each girl moved their guns up and pressed them against each other's foreheads.
Fate panted, gasping for air through her sand coated mouth. Nanoha was doing the same, trying to shift her weight onto her good foot to stay up. "You know," Fate stated, not wavering her position. "If one of us shoots, the other will die dragging the body through the desert."
Nanoha licked her lips, the dull, dry taste of sand making it gritty. "Good point... We should use a bullet to break the chain holding us."
"You do it," The blond offered.
The bounty hunter knew better than to waste her single bullet and glared at the girl in front of her fiercely. "If I use mine, you'll shoot me."
"I will not."
"Then you break the chain."
"And have you shoot me? Think not." Fate could feel the spot on her head itch from the barrel of the girl's Caster.
The stalemate lasted until another howl came, reminding them that they weren't the only living things in the desert. "I loaded my shell into my caster loading bay. You can't open it if I die."
"I did the same. You can't work my gun from that point either."
"I took it out earlier."
"I leave one in that chamber for emergencies."
A third howl came and Nanoha knew she didn't have much of a choice. "There is a pack of coyotes nearby, they are howling together. We don't want to be nearby when they go on the hunt."
Fate swallowed, but knew the woman's words to be true. "Fine. I'll move my gun if you move yours." Their eyes locked and guns parted from their faces.
Nanoha took a deep breath and looked around at the deserted area around them. "We can't go back to the town; we'll be shot on sight."
"We will have to go to the next town over, and get unchained from there."
The two looked at each other and took in their situation fully. "It's going to be a long two day's walk..."
Tue, 01/04/2011 - 04:59
#4
This looks really promising D:
Satashi's fic together with Alavon's drawing, that's just pure win!
I hope you'll be able to update this any time soon >w<
it's wonderful! I wonder where this is going..