Delicious! (A collection of meaningless crack stories)
Some people in their spare time do something productive, like study or learn new skills.
I am not one of those people, I just sit around day-dreaming all day.
And I day-dream about crack, all the time. Some of it half-serious, some of it half-insane.
And so I present to you, unwitting readers, a whole bunch of crack.
--------------------------

Chrono, for the sixty-second time, tried to care about the shoe box in front of him.
It was really hard.
There is a time in a young boy's life when he realises that Holy Crap, girls are different from boys. There is a time in a young man's life when he realises that Holy Crap, all girls are exactly the same. Chrono passed that point halfway through Act 1 and he was astounded, with a fascinated horror not dissimilar from those witnessing a car crash, that all girls were EXACTLY the same. Even those from different time/space/dimensional planes.
Chrono was watching the Chickiest Chick Flick of All Time. And it didn't even have the decency to be performed in a theater with comfy seats and dim lighting so that he could fall asleep. He was watching a play. That was being performed in a shoe box. By magical talking staffs.
Silently swearing horrible curses that can't be printed here due to censorship issues, Chrono helplessly watched Bardiche trying to woo the affections of Raising Heart. At least, that was what it LOOKED like. Bardiche was spouting more hard to understand romantic/poetic crap than Stephanie Meyer writing in Shakespearean English.
While the girls around him "Ohh'ed" and "Ahh'ed" as Raising Heart gave a reply speech that was even harder to understand than Bardiche's explaining some reason they couldn't be together that only made sense to girls, Chrono felt it was time. He couldn't LEAVE the room where this hell-for-men was being held, but he certainly wasn't going to WATCH it either.
Double-checking to make sure that all of the girls in the room (i.e: practically everyone he knows) was suitably distracted by Bardiche making a bold statement of his undying love that would get you laughed at in real life, Chrono quickly pulled out the PSP in his pocket and turned it on.
---------------
"Come to me Raising Heart! My love for you is like a star in the night sky, burning brightly with passion for you in a world of cold loneliness!
"No, stop it Bardiche! We can never be together! If we are stars, then we are twin stars in a Binary Solar System, always so close to each other yet fated to never touch!"
'Oh my god, what the hell is with all the freaking space metaphors!?'
Yuno screamed inside his head as he felt his sanity melt away. Bored, so bored, so god damn I may actually kill myself for some excitement bored!
You know how much attention span a ferret has? That's right, you don't. Yuno doesn't know either, his shriveled up after the first 30 lines.
'Screw it,' thought Yuno, 'I'm not even going to even PRETEND to watch this anymore.'
Yuno quickly looked left and right to make sure he wasn't caught while he retrieved his PSP from his pockets and turned it on.
---------------
"DAMN YOU FERRET BOY, REMATCH!"
Chrono came very close to screeching this out loud, but by some divine miracle managed to just telepathically scream at Yuno instead. Somewhere along the 34th Act (where Raising Heart was leaving Bardiche behind so she could study in Germany) Chrono and Yuno both realised that they were both playing Nanoha A's Portable: Battle of Aces and were challenging each other.
If you've never played this game with other people then you have no idea how freaking annoying it can be. Seriously, you'll be screaming BEAM SPAM for years. But in a good way.
"Bardiche, I've come back from Germany!"
"Oh Raising Heart, I've missed you more than the planetary mass of Jupiter and it's 65 moons combined!"
"Take THAT Blue Boy!"
"Stop spamming that stupid shieldy thing Ferret! Who the hell plays as Shamal anyway!?"
"The guy whose kicking your ass!"
"Bardiche, there's something I need to tell you before you continue!"
"Dear god, how many of these stupid bind traps do you have?!"
"I don't know, how many stupid homing tornado things do YOU have!?"
"Oh no Raising Heart, don't tell me..."
"YES BARDICHE! I met someone else while I was in Germany!"
"Bitch! Stop healing yourself!"
"Then stop spamming that stupid square move!"
"How could you?! We promised we'll be together forever!"
"Grow up! We both knew this relationship would never last, I've found someone much more better for me!"
"SHITSHITSHITSHITSHIT-"
"BWA HA HA HA HA! WITH MY CRITICAL BOOST SKILLS IN PLAY, I'M INVINCIBLE!"
"Who could possibly love you more than I do Raising Heart?! Don't tell me it's-"
"YES! IT'S GRAF EISEN!"
"GUTEN TAG!"
"YOU BASTARD!"
"TAKE THAT, BITCH!"
----------------------
There was some confusion over the last lines. Since multiple people screamed at once, no one was sure who said what.
Chrono had stood up on his seat so that he could scream at Yuno more directly while flipping him the bird.
Yuno had also stood up on his seat so that he could taunt Chrono by pulling down his eyelids with one hand, sticking his tongue out and flipping him the bird with the other hand.
Fate had jumped up to her feet and was shaking her fist angrily at Graf Eisen.
Vita had also jumped up onto her feet and was enthusiastically dancing around in place while making some 'unusual' gestures to Bardiche.
In the end, people became too emotional to continue watching 'Devices Of Our Lives' and the entire show was canceled.
---------------------
The moral of the story here is:
A) It is very easy to become 'emotionally attached' to a session of Battle of Aces.
B) You should never bring boys to chick flicks, ever.
C) Star-light Breakers are great for breaking up small riots.
Cardboard box is here!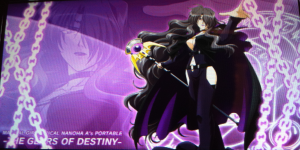 Sun, 06/12/2011 - 07:05
#4
ZERG RUSH AHHHH!
Oh god that's hilarious XD
Anyway...
-----------------------------------
Vivio Man the Sequel, part 2!
BA DA DA DA DA
BA DA DA DA DA
VIVIO!
Last time, Vivio Man and Einhart the Boy Wonder were on the trail of a mysterious thief who had stolen Fate and Nanoha's... things.
BA DA DA DA DA
BA DA DA DA DA
VIVIO!
(Weird swirly screen thing again)
(Our heroes are walking down the street when they see Chrono)
Vivio: Hey sidekick-
Einhart: I have a name you know...
Vivio: Whatever. Is Chrono on the list?
Einhart: Um... Yeah he is. Should we go talk to him?
Vivio: Of course, let's go!
Vivio: Hey, Chrono!
Chrono: Hm? You need something?
Vivio: We heard that you lost something and we're here to help you find it!
Chrono: Really? That's okay and all but it's not something I really need help with...
Einhart: Why's that?
Chrono: I lost the TV remote, it's not that big of a deal.
Vivio: ...That's it?
Chrono: Um...Also I lost my Subway card?
Vivio: ...Anything else?
Chrono: I dropped a coin and it rolled into the drains the other day...
Einhart: Anything IMPORTANT?
Chrono: I'm missing some anime DVDs but that's about GAH!
(Vivio has kicked Chrono in the balls)
Vivio: Don't waste our time, jerk!
Chrono: You called me!
BA DA DA DA DA
BA DA DA DA DA
VIVIO!
(Weird swirly screen thing again)
(Somewhere in the park)
Vivio: Well that was a complete waste of time
Einhart: Not really, that was a sweet kick
Vivio: Yeah, I know
Teana: JUST GET UP DAMMIT!
Subaru: NUUUUUU! I DON'T WANNA!
Einhart: ...Nu?
(Subaru is lying on the ground with no shoes on while Teana is desperately trying to get Subaru to stand up by dragging her. She is failing horribly as Subaru keeps flailing her arms and legs around)
Vivio: Um... Is something wrong?
Teana: NOOOOOO Everything is just FIIINE
Vivio: Oh, okay. We'll just be going then.
Einhart: I'm pretty sure she was being sarcastic
Teana: Of course I was!
Vivio: Jeez, don't be so confusing then!
Subaru: Walking is for alligators and ostriches!
(Subaru manages to kick Teana off and is rolling around the ground in a bid to escape. Teana jumps up and starts pistol-whipping her)
Teana: JUST WALK DAMMIT!
Subaru: NUUUUUU!!
Vivio: Okay, WTF?
Teana: Some bastard just stole Subaru's skates and now she refuses to walk anywhere! JUST! WALK!
Subaru: Walking is for lizards and cows!
Einhart: Wait, you mean they were stolen just now?
Teana: Yeah, some crazy purple chick with STOP KICKING ME!
Subaru: Stop pistol-whipping me then!
Vivio: Quick, which way did they go?
Teana: Okay, that's it!
(Teana shoved the gun she was whacking Subaru over the head with into her mouth.)
Teana: WALK OR I F##KING SHOOT! I WILL BLOW YOUR F##KING MOUTH OFF!
Vivio: Oh shit!
Einhart: What the hell man?! Just calm down!
Teana: I'M GOING TO DO IT! I'LL F##KING SHOOT! I'LL SHOOT!
Vivio: Don't shoot her bro!
Teana: I'M GONNA SHOOT YOU BRO!
Vivio: Wait! What if you ask really nicely if Subaru will walk?
(Teana stares at Vivio)
Vivio: ...Just try it?
Teana: FINE! (Ridiculously over the top sugar sweet tone) Please walk?
Subaru: (Ridiculously over the top sugar sweet tone) No, f##k off.
Cue explosions.
BA DA DA DA DA
BA DA DA DA DA
VIVIO!
(Weird swirly screen thing again)
(Random street)
Vivio: I'm just going to ignore everything that just happened.
Einhart: Good idea, Hayate is next on the list by the way.
BA DA DA DA DA
BA DA DA DA DA
VIVIO!
(Weird swirly screen thing again)
(Hayate's house)
Vivio: Hello? Anyone home?
Hayate: Who is it?! Are you cops!?
Vivio: No, it's us; Vivio Man-
Einhart: Your a girl
Vivio: Whatever, and Einhart the Boy-
Einhart: Girl
Vivio: WHATEVER! It's us, Vivio and Einhart!
Hayate: Okay, climb in through the bathroom window.
Vivio: ...Why?
Hayate: Just do it!
BA DA DA DA DA
BA DA DA DA DA
VIVIO!
(Weird swirly screen thing again)
(Our heroes are inside Hayate's house. The house is a complete mess with everything strewn across the floor, walls and even the ceiling.)
Vivio: Wow, what happened in here?
Einhart: We're here to help you recover something that was stolen from you!
Hayate: OH THANK GOD! I lost my most precious item and I really need it back!
Vivio: What is it?
Hayate: It's a Post-It note!
(Vivio stares at Hayate for a while and then winds up for another kick)
Hayate: I've lost the Post-It of Ultimate Power!
Einhart: The what?
Hayate: It's a Post-It with a magical spell on it, whoever holds it can sexually molest anyone they want without getting into trouble!
Vivio: Holy shit, is THAT how you do it?
Hayate: Please, I need it back; I haven't grabbed someone's funbags for almost an hour now!
Vivio: Okay then... Do you have any clues as to who did it?
Hayate: Not really, I think I saw someone though. She was kinda tall I guess but that's all I know...
BA DA DA DA DA
BA DA DA DA DA
VIVIO!
(Weird swirly screen thing again)
(Outside the Mayor's office)
Einhart: Well, Reinforce is the last victim. What should we do?
Vivio: ...Ignore her?
Einhart: ...
Vivio: Okay fine, let's just hope she's forgiven us.
(They knock on the door)
Einhart: Excuse me, are you there Mayor Reinforce?
Reinforce: I don't know, maybe I'm too SHORT to be in right now!
Vivio: Oh crap, she's still mad at us...
Einhart: Um... We're here to gather clues and stuff, do you know anything?
Reinforce: I don't know, maybe I'm too SHORT to know!
Vivio: Annnnd this is going no where...
Einhart: We're both really sorry! Right, Vivio?
Vivio: Why the hell do I have to sorry that she's such a midGAAH!
(Einhart has grabbed Vivio and suplex'ed her)
Vivio: Okay, I'm sorry! This hurts dammit!
(Inside Rein's office)
Reinforce: Okay, so what's up?
Einhart: We've talked to everyone and your the last person left.
Reinforce: Cool. Long story short, someone stole my nail polish and I was going to paint my nails rainbow colours tonight with Hayate. Have you seen her by the way?
Vivio: She's... kinda busy.
Reinforce: That's too bad. Any clues on who it is?
Einhart: Actually, no. All we know it's someone kinda tall who wears purple.
Reinforce: ...That doesn't help at all
Vivio: Yeah, we know. Any ideas?
Reinforce: There's only one person who can help us now!
BA DA DA DA DA
BA DA DA DA DA
VIVIO!
(Weird swirly screen thing again)
(Mid-Childa City Prison)
Vivio: Huh, I thought I'd be at least 16 before I went to prison.
Einhart: Really? I thought you should have been arrested several paragraphs ago.
Reinforce: Shush, we're here.
???: Well, well well. If it isn't Vivio Man-
Vivio: I'm a girl.
???: Whatever, and Einhart the Boy Wonder-
Einhart: What she said
??? Whatever.
Reinforce: Enough recycling of old jokes! We've come to see you for advise. They that to catch a criminal you have to think like a criminal and that's why we're here to see you... FERRET!
DU DU DUUUUUUN
Yuno: Yes! The Ferrent returns! More screen time!
Vivio: Oh shut up and tell us what we want to know.
Yuno: How can I tell you if I have to shut up?
Einhart: Don't make me suplex you.
Vivio: She's serious, trust me I know.
Yuno: Fine, I'll help you. But you gotta get me out of here in exchange!
Reinforce: How about no?
Yuno: Then solve it on your own.
(Several miniutes of silence passes. The only sounds that can be heard are of Vivio randomly shooting security cameras)
Reinforce: How about we reduce the sentence from imprisonment for life to a couple of years?
Yuno: ...How many years?
Reinforce: How about nine
Yuno: That's still a bit-
Reinforce: Thousand?
Yuno: What the... 9000 is even worse than life!
Reinforce: Fine, we'll let you go...
Yuno: Sweet!
Do do do doooo
Yuno has joined your party!
BA DA DA DA DA
BA DA DA DA DA
VIVIO!
(Weird swirly screen thing again)
(Mayor's office again)
Yuno: If we can't pinpoint a criminal based on the physical descriptions you gathered, we have to try guess who it is based on what they stole.
Vivio: Okay then; the stolen items are a Championship Pro-Wrestling Belt...
Yuno: A what?
Einhart: Nanoha and Fate want it
Vivio: It has a wrestling horn and everything
Yuno: ...Okay
Vivio: Um, we're also missing a TV remote, a Subway card, a coin and some anime DVDs...
Yuno: (writing this down) Okay, go on...
Vivio: Subaru's skates are missing as well...
Einhart: Hayate's missing some kind of Post-It that lets her grope anyone she wants-
Yuno: Holy shit! Is THAT how she does it?!
Vivio: I know right?
Reinforce: And my nail polish is gone.
(Yuno has written a list of all the missing items and is staring intently at it. )
Yuno: I've got it! The culprit is...
Vivio: Yes?
Yuno: The culprit is...
Einhart: Uh huh...
Yuno: The culprit is...
Reinforce: JUST SPIT IT OUT FERRET BOY!
Yuno: Dammit you made me forget!
Reinforce: I'll kill you!
(They fight)
Yuno: Oh wait, I remember now!
Reinforce:You better.
Yuno: The culprit only stole items that were mildly annoying to lose, therefore the culprit can't be a big name villain!
Vivio: I guess that makes sense...
Yuno: And that's it.
Vivio: Huh? You mean you don't actually know?
Yuno: No, not really. I'm just making stuff up so I can stay out of prisGAH
(Vivio has kicked Yuno in the nuts)
Einhart: Holy convenient plot device Vivio Man-
Vivio: I'm a girl.
Einhart: Whatever. The Vivio-Signal is being lit up again!
(The Vivio-Signal is shining in the sky again but it's still upside down)
Vivio: Quick, to the Vivio-Mobile!
BA DA DA DA DA
BA DA DA DA DA
VIVIO!
(The two of them dash towards a tricycle with a sidecar attached. Einhart hops into the sidecar while Vivio jumps into the driver's seat and peddles away)
BA DA DA DA DA
BA DA DA DA DA
VIVIO!
(Weird swirly screen thing again)
Vivio: Look, Nanoha is next to the Vivio-Signal transmitting thingy!
Einhart: Isn't just a spotlight?
Nanoha: Oh, it's terrible! Fate has been kidnapped and they left this note!
Vivio: This must be the work of The Ferret!
Yuno: Why me!?
Vivio: Because this is the exact same thing that happened last time!
Einhart: It looks like the kidnapper is challenging us to try and rescue Fate. With any luck the thief and the kidnapper are the same person so we can get this over with quickly.
Vivio: I'll say, this is taking too long.
BA DA DA DA DA
BA DA DA DA DA
VIVIO!
(Weird swirly screen thing again)
(Inside some generic evil lair)
Fate: Eh? Where am I?
???: You're in my Evil Lair!
Fate: No way, it can't be-!
???: That's right, it's been a long time Fate and now it's time for my revenge!
Fate: Bullshit! I refuse to believe it's really you!
???: Too bad because it is, now I'll torture you until your little friends arrive!
Fate: DAMMIT!
???: AH HA HA HA HA HA!
(The mysterious villain pulls a whip out of no-where and starts whipping Fate)
Fate: OW! That hurts!
???: It's supposed to! (whips some more)
Fate: Ow, red! Red!
???: What the hell is- Wait, are you telling me to stop in bondage language?
Fate: It works when Nanoha whips me too hard!
???: What?
Fate: Nothing.
(A nearby window suddenly explodes as Nanoha crashes through it, posing as she lands)
Nanoha: Fate, I'm here to save you!
???: Oh come on, I haven't even tortured her that much yet!
(The door explodes off it's hinges and Vivio and Einhart enter the room)
Vivio: Halt evil doer!
Einhart: We're here to save you!
(The light coming in from the busted door reveal the villain to be...)
Nanoha: PRECIA TESTAROSSA! But how?! You died back at the end of the first series ages ago!
Precia: Ha! I just fell into some weird inter-dimensional gap - that's just like falling off a cliff which everyone knows never kills the villain!
Nanoha: Crap!
Precia: I've finally returned after years of being trapped in something that looks like a stoner's nightmare to have my revenge!
(Precia whips Fate some more, who swears at her with words I can't type because I can't spell them)
Nanoha: It's time to put a stop to this!
(She pulls out a jewel thing from her pocket)
Nanoha: Moon Prism Power- Make HEY!
(Precia whips it out of Nanoha's hands, breaking it and thus ending any chance of me reusing Sailor Nanoha again)
Nanoha: Fine then! Raising Heart, Set STOP THAT!
(Precia whips RH out of Nanoha's hands and catches it)
Precia: Now no one can stop me!
...
Vivio: Uh hello? You forget about us or something?
Precia: Who the hell are you two?
Vivio: I'm Vivio Man
Einhart: Your a girl.
Vivio: Whatever, and this is Einhart the Boy Wonder and DON'T YOU CORRECT ME THIS TIME!
Einhart: Yes ma'am.
Fate: No Vivio, it's too dangerous! Fate-mama can handle herself!
Vivio: No you can't, your getting your ass kicked.
Precia: Whoa whoa whoa, hold up for a second. Fate, this your kid?
Fate: Yeah, kinda. She's Nanoha's and mine...
Precia: ...Wait, what? But your both girls!
Nanoha: Get with the times Precia, we've been gay for each other since like, episode 4 of the original series.
Precia: But that's when you two first met!
Fate: Yeah, pretty much.
Precia: You see, THIS is yet another reason why you suck Fate. My Alicia would have totally married a guy and-
Nanoha: Okay, easy on the homo-hate purple girl. Just gimme back my waifu so we can go wrestle some more.
Einhart: Don't you need your wrestling belt?
Nanoha: Huh, what are you talking about?
Fate: She means the strap o-
Nanoha: YES I REMEMBER NOW
Precia: Dude, I can't believe my daughter's gay. I'm just going to kill you now before you gayify the place with your gay germs.
Nanoha: Get with the freaking times oldie!
Precia: Never!
(Precia grabs a plastic shopping bag from the corner of the room and starts picking things up from it and throwing it at Nanoha, Vivio and Einhart)
Precia: Take this! Subway card attack!
Nanoha: (smack) Gah, my nose!
Vivio: So she IS the thief as well!
Precia: That's right, I stole a bunch of crap just to piss you all off!
Einhart: Dammit, Yuno was completely wrong, this is a high level villain!
Precia: Damn straight, now eat roller blades!
(Precia throws the skates at our two heroes and knocks them over)
Vivio: I'm not giving up! (Charges at Precia)
Precia: Oh yeah, let's see how you like this... Post-It note?
(All of a sudden Precia grabs Vivio and starts going all Hayate on her)
Vivio: AH BAD TOUCH BAD TOUCH!
Fate: Dude, what the hell is wrong with you?!
Precia: The hell if I know, I don't even want to do this!
Nanoha: I would be extremely pissed off at you right now but I'm strangely okay with it!
Einhart: The Post-It of Ultimate Power is too strong!
Fate: Seriously, do you have to ruin EVERYONE'S childhood?!
(Precia drops the Post-It, allowing her to stop feeling up little children)
Vivio: I feel so violated...
Einhart: There, there Vivio. Everything's going to be okay.
Precia: ...Well, I'm still winning.
Nanoha: Yeah, cause your a freaking pedo you jerk!
Fate: No wonder your so hung up about Alicia you pervert.
Precia: Oh shut up, it's not like I MEANT to touch her like that!
Nanoha: I bet MJ used the same excuse!
Precia: Stop going on about it okay? I'll throw more things at you!
(Precia throws some nail polish at Nanoha)
Nanoha: You stained my dress you bitch!
Precia: That's right, and I have plenty more crap to throw at you too!
(Precia pulls Chrono's wallet out of the bag, takes all the money and credit cards out and throws it at Nanoha)
Nanoha: Oh hey, this wallet is pretty nice
Einhart: I'll avenge Vivio you sicko!
Precia: Oh for god's sake, it was an accident!
(Precia picks up a TV remote and throws it at Einhart. She catches it and throws it back. Precia whips it out of the air and throws the first thing she grabs from the bag)
Einhart: Oh hey! Nanoha, Fate! I found your wrestling belt!
Nanoha: OH SHIT DON'T TOUCH THAT!
Fate: WHAT THE HELL IS WRONG WITH YOU PRECIA?! STOP DOING SEXUAL THINGS TO LITTLE CHILDREN!
Precia: Dude! Accident! CHILL!
Fate: Bullshit!
Precia: Shut it, take this!
(Precia reaches into the bag and stops dead. She looks into the bag in both shock and awe.)
Precia: Holy shit, I found it... I FOUND EL-HAZARD!
Nanoha: It's in a plastic shopping bag?! BULLSHIT!
Precia: Behold! El-Hazard!
(Precia pulls something out of the bag. Everyone stares in surprise as she reveals)
Einhart: The complete collections of El-Hazard: The Magnificent World on DVD?
Vivio: That's an old anime, right?
Nanoha: Oh my god, you are some kind of retard.
Fate: ...
Precia: Ah ha ha ha ha haa! There's nothing I wouldn't do for Alicia, even tracking down an old anime series from 1995!
Fate: BULLSHIT! BULL-F##KING SHIT! YOU PUT ME THROUGH ALL THAT CRAP FOR A F##KING ANIME!?!
Precia: Pretty much, yeah.
Fate: FATE SMASH!
(Fate suddenly grows huge muscles and turns green. She breaks out of her bonds and then pounds Precia into a pulp)
-----------------------------------------
BA DA DA DA DA
BA DA DA DA DA
VIVIO!
(Weird swirly screen thing again)
(Back in the sandbox/Hawaii)
Vivio: Well, I'm glad that's all over with
Einhart: You said it. Now let's enjoy the rest of our vacation.
In the end, Precia the kidnapping thief miraculously survived Fate's brutal pummeling and was arrested for theft, kidnapping, all the charges she gained during the first series and inappropriate touching of minors.
Vivio and Einhart enjoyed their 2 hours of vacation before they had to go home, do their homework and get ready for school the next day.
Nanoha and Fate got their 'wrestling belt' back and were able to wrestle as much as they wanted.
Chrono got all of his stuff back except for his wallet, which pissed him off.
Subaru got her skates back, enabling her to move again and finally ending the tension between her and Teana.
Hayate didn't get her post-it back as it was deemed to dangerous and it was destroyed. Not that it mattered, as Hayate was so good at molesting people that no one tried to fight it anymore.
Reinforce didn't get her nail polish either as it was all over Nanoha's dress. Since the dress was ruined she just cut bits of the dress off and stuck it to her fingers.
Since Yuno was no help at all he was rearrested and put back in prison. He's cellmates with Precia.
Alfred the butler never appeared. He's so lonely, we should go visit and give him a hug or something.
Cardboard box is here!